How to Clean Sunbrella Fabric?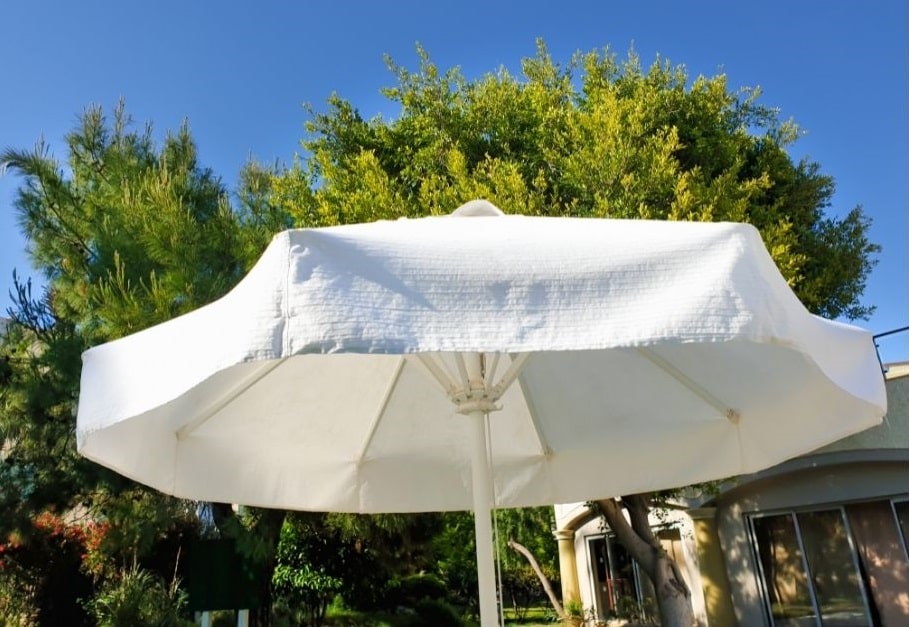 Sunbrella fabric is a fashionable, durable, and versatile material that has brought innovation to the textile industry. The brand is a leader in high-performance fabric, providing customers with a material that is water and mold-resistant, with a long-lasting color that will look new for years to come.
Sunbrella can be used for many things from awnings and outdoor covers, marine canvas, and fabrics, and even on outdoor and indoor furniture; the list is endless. It is a leader in an all-weather, elegant design.
What is Sunbrella fabric?
Imagine a fabric that can withstand weather extremes, and maintain bright, colorful prints. This is the pinnacle of Sunbrella design. This unique material is both chic and practical, offering the opportunity for bold, beautiful designs along with a tough, lasting product that will not let you down.
The utmost care is taken in the creation of this fabric and it has been engineered to perform to the highest standard, providing customers with a material that has excellent fade, water, and damage resistance.
Importantly, this fabric has a longer lifespan than other brands in the same market and you can expect to enjoy this for over 10 years, three times longer than competitors, which makes it more of a sustainable and environmentally conscious choice.
History and Technology of Sunbrella fabric
The unique Sunbrella material was first created in the 1960s with a plan to shake up the outdoor cover industry with durability along with beautiful designs. The first manufacturing location was founded in the US, with more locations throughout the world.
The design takes place in the US and Europe, where they have combined experience within the industry with collaborations and innovative ideas in the world of durable and versatile fabric.
Design is not limited, and the creators work hard to utilize trends and investigate future technologies to manufacture only the best and most fashionable materials for styling your home, outdoor space, or marine shade.  
In terms of environmental credentials, Sunbrella comes out on top. They are dedicated to sustainable practices and continuous improvements as the company grow.
Solar power, repurposed yarn, and the Recycle My Sunbrella program are just a few of the ways this company is dedicated to reducing its impact on the environment.
What is the best way to clean Sunbrella fabric?
An important step for keeping your Sunbrella fabric in the best condition and looking as beautiful as the day you bought it, is knowing how best to clean it.
Let's take a look at the best methods of cleaning this fabric. This information will be split into different sections that relate to the type of product.
Firstly, some top cleaning tips to give you a quick general guide on how best to clean the Sunbrella fabric:
Remove any dirt that is sitting on top of the fabric with a cloth.
If oil has found its way onto the fabric, immediately add starch, and scrape it off.
Create a mixture of warm water and gentle soap, like dish soap, and spray this onto the fabric.
Find a soft brush or sponge to gently scrub the surface.
This water and soap mixture should soak into the material and penetrate the fabric to get to the all the engrained dirt.
Rinse until there is no more evidence of soap, and the water runs clear.
Allow the material to air dry.
Top Tips:
Always clean a stain as soon as you notice it, or just after it has happened. The best way to prevent any permanent marks is to act quickly.
Regular cleaning helps to keep the fabric is top condition. By completing the steps above on a regular basis, this will prevent the need to intensively clean your product.
Do not use a hard, abrasive material to clean Sunbrella fabric
Be careful when using any other cleaning materials near the fabric, particularly bleach, as this could result in staining.
Clean the fabric vertically or horizontally instead of in a circular motion, to follow the seam pattern.
Sunbrella Upholstery, Sunbrella Sling, and Marine Canvas
One of the reasons customers choose to upholster their outdoor and indoor furniture with Sunbrella is due to the durability and stain resistance of the fabric.
It is a fantastic choice if you have an accident-prone family, a pet that likes to leave muddy paw prints on your furniture, or boat furniture that needs to be weather resistant. There are still some key aspects to remember when looking to clean this fabric:
So, you've just spilled something on your Sunbrella-upholstered furniture, what do you do next?
Work fast! Gently blot the material with a soft cloth to try and absorb as much of the spillage as possible, without rubbing it in further.
If it is an oil-based spill then you could even reach for some cornstarch to fully absorb the oil, so you can scrape it off after ten minutes.
Mix warm water with some delicate dish soap and spray this onto the fabric
Rinse the material until there are no more soap suds, and the water is clear
Allow it to air dry
What if you are not able to catch the spill in time?
Indoor and outdoor upholstery can be treated by using the steps above, but be sure to use a soft sponge and avoid scrubbing.
Once the material has been cleaned and rinsed, you can blot excess water or even use a wet vacuum to try and remove most of the water, and then let it air dry as usual. Certain fabrics can even be put in the washing machine on cold or professionally cleaned, but be sure to check the details of your specific product first.
Stubborn stains or spot cleaning
Sunbrella fabric is designed to be durable against stubborn stains and prevent mold or mildew growth. Depending on your environmental conditions, it can still allow stains to soak in or mold to grow on the dirt sitting on top of your material.
For stubborn stains – ¼ cup gentle soap with one gallon of water.
For Mold/Mildew – add 1 cup of bleach and ¼ cup of gentle soap to a gallon of water.
Spray this all over the area you are looking to clean.
Let this mixture absorb for 10 minutes.
Gentle clean using a cloth, sponge, or soft brush.
Rinse the material until the water is clear.
Blot to remove excess water or use a wet vacuum.
As always, allow it to air dry.
If this does not clear up the mold or stains, you may need to increase the amount of bleach.
It is always a good idea to clean the entire fabric, so it does not develop any water marks.
Sunbrella Awnings, Shade Fabric, and Marine Covers
The humble beginnings of the Sunbrella brand were awnings and covers, now offered in a huge variety to provide much-needed shade in your backyard or on your boat. It is recommended that you lightly clean your fabric at least once a month by hosing down the material, to maintain high performance and keep it looking fresh.
A more thorough clean, or even a heavy clean, is encouraged every two to three years. If it is a large cover on a boat, or on a large awning frame:
Remove any dirt sitting on top of the fabric.
Hose with clean water.
Mix water with gentle soap.
Use the mixture to scrub the material gently, with a sponge, cloth, or brush.
Let the soapy water absorb into the material.
Rinse the material until there are no more soap suds.
Air dry.
If the cover is removable, and small enough, you may be able to hand wash or use a washing machine to clean it.
Hand washing should involve ¼ cup of gentle soap for one gallon of warm water, which you should soak the fabric in. Clean as per the instructions above, rinse thoroughly, and air dry. Remember to machine wash using cold water, using a regular amount of detergent or 1 cup of bleach, then similarly air dry.
If you find that your Sunbrella fabric has some mold growth, or a particularly stubborn stain, then you can follow the instructions below to get your cover looking bright again:
For stubborn stains – ¼ cup gentle soap with one gallon of water.
For Mold/Mildew – add 1 cup of bleach and ¼ cup of gentle soap to a gallon of water.
Spray this all over the area you are looking to clean.
Let this mixture absorb for 10 minutes.
Gentle clean using a cloth, sponge, or soft brush.
(Do not do this on the coated/under-side of the Sunbrella Plus, Supreme or Clarity)
Rinse the material until the water is clear.
Blot to remove excess water.
Allow it to air dry.
If this does not clear up the mold or stains, you may need to increase the amount of bleach.
Retreating Sunbrella Fabric
Cleaning is key to keeping your Sunbrella chairs, awnings, and covers looking brand new and staying water, mold, and fade resistant. Over time, cleaning and weather exposure can remove some of the protective coatings.
Therefore, it is important to apply a protective treatment product. This will help to maintain the performance of the material and keep the fabric protected from the elements. Sunbrella recommends using the 303 Fabric Guard, which is available in the US, or for those outside of America, you can use the Tex'Aktiv.
Here is how to retreat the fabric:
Only retreat after you have cleaned the fabric thoroughly.
Ensure that the fabric is completely dry.
Ensure you are in a well-ventilated area, or outside.
Apply a thin, even coat of the retreatment.
Wait for this to dry.
Apply a second thin, even coat of the retreatment.
Allow to dry, then you are ready to go.
It is recommended to apply two light layers of the retreatment as this results in improved performance. Ensuring you are applying a light layer, twice is significantly better than one thick coat as you can be sure not to have missed any sections and offer two solid barriers of protection. The retreatment bottles usually have enough product to cover around 100 square feet of fabric.
Additional Sunbrella Materials
What about Sunbrella fabrics that have graphics, can you clean these in the same way?
Cleaning instructions are the same as those listed above, but there are some considerations when you have a Sunbrella Graphics System.
Do:
It is extra important to use a gentle soap.
Make sure that the water is not too hot – washing with cold, or slightly warm water is recommended.
Rinse the material until all the soap suds are gone, and the water is clear.
Always air dry.
Do not:
Use a pressure washer or a hose with a strong spray.
Use any material that is too rough to clean the fabric. Stick to gentle sponges or cloths.
Put the fabric with graphics in the washing machine
Sunbrella also offers a PVC alloy, and this can be cleaned using the instructions above. However, it is important to note that you cannot use cleaning products that contain solvents as this can affect the coating and make it more likely that the material will degrade. Be sure to avoid any products that may contain acetone, liquid fuels, paint thinners, mineral spirits, and turpentine.
Sunbrella sheer fabric, that can be used for drapes or curtains, can be treated a little differently. In fact, it is recommended to wash this material in the washing machine on a cold cycle. Then, as usual, allow it to air dry. It is also possible to have this fabric dry cleaned, although you should not dry clean any other Sunbrella products.
Sunbrella shadow can be impacted by heat and should therefore not be exposed to high temperatures. This can also be washed following the instructions above, or in the washing machine on a cold cycle, and then allowed to air dry.
A comprehensive stain cleaning chart is available through Sunbrella by following this link. This outlines the best cleaning methods for the most common stains including food, drinks, and dirt. It is a great guide to keep on hand when you need to quickly clean up a spill and prevent a stain.