Use of Sedum carpets for Green Roofs
Poor air quality, excessive stormwater runoff, and loss of biodiversity are issues of serious concern around the globe.
If our activities continued at a business-as-usual approach, the impacts could be devastating for the health and livelihoods of the people. Therefore, the current situation pushes us to take action in the right direction.
Sedum carpet is one of the efficient and economical materials available to us that can help improve air quality and deal with urban heat island effects. In addition, they also help minimize stormwater runoff, improve local biodiversity, and are effective means of evapotranspiration.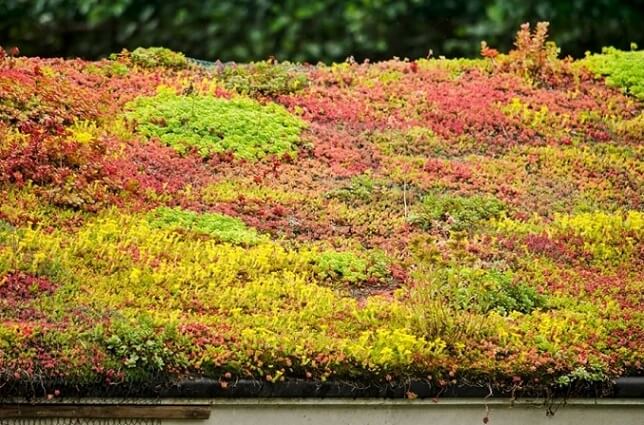 Roof beds planted with extensive sedum carpet vegetation moderate the urban temperatures due to their retention capacity, causing an increase in urban biodiversity, reducing air and noise pollution, energy-saving, and ozone removal.
In this article, we have covered everything you need to know about sedum carpets, from composition to preferred species and installation methods.
What exactly are sedum carpets?
Sedum carpets are typically composed of Sedum species plants that belong to the family Crassulaceae.
They are succulent and grown on coconut mats covered with a thin substrate. The coconut fiber base varies in thickness from 2.5 to 4 cm and helps establish a root base. The overall thickness of the roof varies from 2.5 to 13 cm.
How do sedum carpets work?
Sedum carpet is a tried and tested standard protective ecological layer used for green roofs.
They possess photosynthetic carbon metabolism that renders them highly potent for storing tremendous amounts of water. They can shift from one type of metabolism to another depending upon the soil moisture content, hence known as water-efficient plants.
A typical sedum carpet has the following composition:
Sedum plant species planted on a layer that provides plant with nutrients and a physical support
Filter fabric that contains the growing medium and prevents its removal
A layer that regulates the drainage and prevents stormwater runoff
A waterproof membrane to inhibit damage to carpet during intense exposure to water
A root barrier
Types of sedum species:
About 400 to 500 species of sedum-succulent plant are known.
Name
Common species
Characteristics
Ruderal sedums
Sedum album, acre, and sexangulare
Fastly growing species that crawl rapidly.
Shallow roots.
Dieback when there is a shortage of water.
Get dormant in low water.
Low evapotranspiration rates
Protect the soil from an excessive increase in temperature during hot weather
Needle type sedums
Sedum rupestre Angelina, Sedum reflexum
Loosely packed needles
Die down when other species of sedum take over
Used for ornamental purposes.
Not a very reliable species because it can disappear and die out after 2-3 years.
Ornamental sedums 
Sedum spurium, Red carpet
Used for ornamental purposes due to bronze reddish color
Poor ability of transpiration
Weak root structure
Poor stormwater runoff management
Go dormant when there is less water supply
Perennial sedums (Most suitable for green roofing)
Sedum spurium, John Creech, Phedimus takesimensis
Deep-rooted.
High evapotranspiration ability.
Have the ability to access the water table even when it is low
Reduce stormwater runoff. Larger biomass
Most commonly used species of sedum carpet for green roofing:
Sedum spurium, also known as Dragon's blood or Stonecrop is a famous species of Sedum carpet.
These are perennial succulent plants. It is preferred, over others, for its excellent potential to withstand poor soil conditions and incredible evapotranspiration rates. 
It grows as tall as 4-6 cm, requires low maintenance, and is resistant to disease, pests, and rodents.
Why is sedum carpet a suitable material for green roofs?
Besides having a shallow rooting system and the ability to survive even in conditions where many other plant species cannot, there are a few reasons why sedum carpets are suitable for green roofing, such as:
Endurance and ability to live by themselves
Sedum carpets have a tremendous ability to recuperate to life even when the conditions are particularly against them, hence termed as tolerators.
You don't need to put labor and hard work into maintaining them. They are highly likely to live longer and propagate on their own and rehydrate after periods of drought.
You don't need to frequently look after them, prune them, cut and shape them, inspect them for weeds, and keep checking them for water provision.
Similarly, once the sedum carpet green roof has been introduced there will not be a frequent need to change the coverage.
Resilience to environmental extremes and weather conditions
Sedum carpets are tough and resilient enough to survive even when the soil on the roof is either too dry, water-scarce, poor in nature, short in terms of nutrients, and prone to trampling, also, when there is too little soil altogether.
Sedum carpets are easy-to-use as green roofs owing to greater adaptability and resistance against several factors such as water scarcity, disease, insects, and extreme water conditions.
These plants do not experience many pollinators or pests and therefore do not require fertilizers or pesticides. These grow in a mat-like low-leveled formation that is non-biodegradable and less prone to wear and tear.
Evapotranspiration for mitigating the impacts of climate change
One of the reasons why green roofs made out of sedum carpets are highly suitable is the incredible evapotranspiration rates of these succulents.
These deciduous, broad-leaved, ever-green, sun-loving, and tough plants can penetrate and extend on hard rocky surfaces and flat, rigid roofs in colorful foliage that grows from late summer to fall.
Mostly, the green roofs are dry sites that do not require extensive irrigation. During roof cooling, the evapotranspiration of sedum carpets will lead to cooled surroundings, lesser temperature fluctuations in the temperature, and resultant mitigation of the urban heat island effect.
Easy to obtain and lay down
Sedum carpets as green roofs are widely commercially available and are perennials that spread fast are easy to set and require less maintenance. In addition, these are easy to install because of their lightweight and are cost-effective, too.
Though sedums are easy to handle still a few things can damage them. Sedum carpets should not be left wet or waterlogged for a long time.
The atmosphere with heavy rainfall, soggy soil, and an appropriate moisture level will determine the extent to which sedum will bloom. Therefore, for the sedum carpet to stay successful for a longer time, water drainage levels and shade must be well-adjusted.
What to pay attention to when unrolling the sedum carpet?
No matter how low maintenance sedum mats are required, intensive care is needed while laying down the carpets. Several factors such as the air conditioning, moisture content, insulation, and light arrangements must be prior-designed to make sure the mats do not trample.
Can we walk on the sedum green roofs?
Even though these are resistant to stomping, it might not be very favorable to foot walk on these during all seasons of the year. Heavy footfall can damage the roof plantation.
However, this damage would not be eternal in most cases. Though plant cells can regenerate, sometimes they do not.  It is, therefore, recommended to walk less on sedum green roofs spread more often.
Simple and easy steps to build up a sedum roof?
The number of layers required for the green roof, installation method, and their design and pattern chiefly determine the success of a sedum roof.
While beginning to lay down a sedum plant cover for a green roof, you need to be specifically careful about the layers.
The soil, as well as the plant characteristics, must be carefully chosen. It is also a safe practice to determine the precipitation levels of the roof to compare it with the evapotranspiration level before installing the sedum roof.
The process of installing a sedum green roof buildup would require you to follow these steps in a row:
Taking measurements of the roof has to be the first and foremost step.  It helps size all the layers and materials required for the green roof.
The first layer to go on the roof will be the waterproofing layer. A polyethylene or butyl liner can be used for this purpose.
Next comes a drainage mat or root barrier layer for a roof having a lesser slope. It helps rainwater runoff to drain easily. A roof that goes in a pitched size and has an adequate slope will not require drainage.
Now comes the water retention mat that needs to be well-tucked and smoothened out like a blanket.
Lastly, the sedum carpet rooted on a coconut mat layer is installed. This comes in tiles that are lifted mechanically or with supportive labor. The edges of each sedum tile must be fitted together closely. The sedum tiles commercially available are usually 1 x 1.5 meters in size.
If no rainfall occurs on the day of installation, you will need to water the green roof daily until the sedum carpet becomes self-sufficient in water.
Would buying a sedum carpet for your green roof be a good idea?
Based on the qualities of sedum carpet to act as a species that is very likely to give you a very little hard time, we can conclude that choosing sedum will be a worthwhile purchase. The benefits that you achieve are long-lasting.
You can practically forget what you did there on the roof and let the sedum take care of itself all year long. It is perennial, resilient, and economical!