28 Features That Makes A Bus Stop Perfect for the Community
Bus stops are an important part of many cities' mass transit systems. A well-designed bus stop can make waiting for a bus more enjoyable, whereas a poorly designed stop can be frustrating and inconvenient.
Although technology is rapidly improving, we still lack the type of bus stops that make waiting for a bus a truly pleasurable experience. Unfortunately, most bus stops are just a sign and a bench, while they could offer so much more.
Given that we live in the twenty-first century and have access to all of the necessary technology, we truly deserve better bus stops. Some cities have already taken control of the situation by taking steps to make people's waiting times more enjoyable.
In this post, we want to explore what makes the perfect bus stop and how your city can benefit from implementing some of these features. We will give some great examples of bust stop designs from around the world to help inspire you.
Although you may never design a bus stop, understanding the thought process behind innovative bus stop designs can help us as a community to demand better bus stops from our local governments.
Because improving bus stops improve commuters' lives, increases ridership, and encourages people to use public transportation.
Although there are so many ways to improve bus stops, the question is:
"What elements should the perfect bus stop possess?"
Answering this question is not as easy as it seems, as there are many factors to consider. However, after analyzing different bus stop designs from around the world, we were able to come up with a list of 28 features that we believe make a bus stop perfect for the community.
Please note not all of these features are necessary for a perfect bus stop. Some of them are essential, while others are simply nice to have. However, the more features a bus stop has, the more perfect it truly is.
Let's get started!
1. Start with good design
Design is everything, and the first step to creating a perfect bus stop is starting with good design. This means the stop should be visually appealing and fit in well with its environment.
If commuters feel that the bus stop is pleasing to look at, they will be more likely to use it. A good design can also make waiting for a bus more enjoyable, which is why it is one of the most important features on our list.
There are so many different types of bus stops, so pointing out how a good design should look is not practical. However, we can all agree that a good design should fit its surroundings and be inviting and easy to use for people of all backgrounds and age groups.
2. Must have frequent bus service
No one wants to wait for a bus for an hour or longer no matter how good the bus stop is. Given this reality, the next feature on our list is frequent bus service.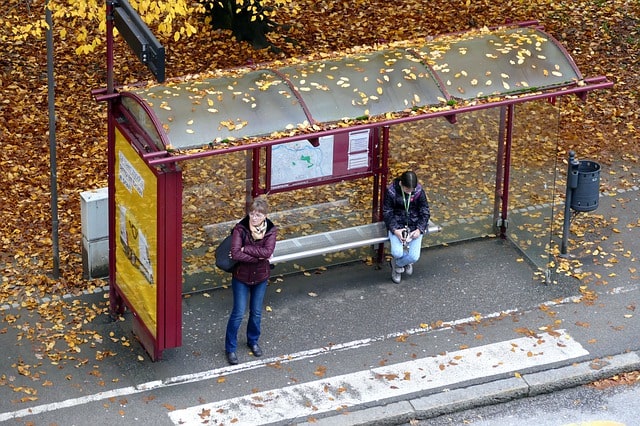 A great bus stop should have frequent bus service, which means that there should be a large number of buses going to and from the stop. Although we want to improve commuters' waiting time experience, minimizing this waiting time is much more valuable.
Therefore, the best bus stop is the one that has a bus coming soon, and that can only happen if there is frequent bus service.
3. Use durable materials
There are three main reasons why using durable materials for bus stops is important.
First, when a bus stop has durable materials, it will last longer and be worth the investment because repairing or replacing it will be less frequent. This is important because a bus stop that lasts for many years is more sustainable in the long run.
Second, durable materials are cheaper although they initially can be more expensive. This is important because it will save the transit authority money in the long run.
Finally, vandalism is still a problem for many bus stops. When a bus stop is made of durable materials, it will be more resistant to vandalism and improper use.
4. Provide Barrier-Free Accessibility
Accessibility is a key factor when designing any type of public infrastructure, and bus stops are no exception. All bus stops should be accessible to everyone, regardless of their physical abilities.
This includes people in wheelchairs, people who use crutches or walkers, and people with babies or children in strollers. The accessibility standards might vary from country to country, but in general, all bus stops should have:
A designated area for people who are using wheelchairs to wait.
Ramps or elevators for people who cannot use the stairs.
Signs that are easy to see and understand for people with visual impairments.
Tactile paving stones to help people who are blind or have low vision find their way.
Bus stops need to have firm grounding so that people can feel safe waiting for the bus. This means that the bus stop must be stable, have proper drainage that prevents water from pooling up, and be free of cracks or potholes.
Cracks can cause accidents, especially for people who are visually impaired. Potholes can also be a safety hazard, especially for people using mobility devices such as wheelchairs and walkers.
Turning to the rain drainage, bus stops must have proper drainage that can handle a lot of rain since riders would be waiting at the stop under the rain.
Pavement at a bus stop should be at the same level as bus floors so that people who use wheelchairs and other mobility devices can comfortably board the bus. Once this is done, passengers won't have to use a wheelchair lift, which will make travel easier for everyone.
Bus stop pavements should also be at the same level as surrounding sidewalks. This will make the area safe for pedestrians and other riders who also use wheelchairs or other mobility devices because they won't have to cross the street to get to the bus stop.
There are certain materials like the Tactile Raised Pavement Surface Indicators (TRP) that can help people who are blind or visually impaired.
These indicators provide a tactile experience by using the raised dots that act as reinforcements. This way, people with poor eyesight can walk confidently by feeling the surface of the path.
5. Secure Seating Area
All bus stops should provide seating for people who are waiting. Because is standing is not comfortable for many people especially it is for a long time. It is important to have seating areas for those who want to sit and wait.
The seating provided should be firmly installed using durable materials, and it should provide comfort for the commuters.
Most bus stops have a bench or two but this isn't enough. The seating should be comfortable so that waiting for the bus doesn't feel uncomfortable.
Here are a few strategies that can be used to provide a comfortable seating area:
The seating should be wide enough to accommodate the people larger in size.
The seating or the surface of it should be made of soft materials so that it is comfortable to sit on.
The bench should be at a height that is comfortable for most people to sit on.
The bench should have a reliable backrest to provide support.
There should be a sufficient number of benches or seats so that everyone can sit down if they want to.
There are seat heaters used for the winter to keep people warm. This can be easily achieved by using electric heaters under the bench.
6. Provide Sheltering from the Elements
There are still many bus stops around the world that do not provide any type of weather protection. This can be an issue, especially in the winter when it's cold and windy, or in the summer when it's hot and sunny.
Sheltering from the elements can be accomplished in a variety of ways, depending on the climate and weather conditions in the area. However, here is a basic list of requirements for protection from the elements:
The shelters should have walls on all sides, and they must be closed all around.
The shelter should provide shade during summertime (for people who don't like direct sunlight).
The shelter should keep off rain or snow during all seasons.
The shelter should be big enough to accommodate the number of people who are waiting.
There should be a way for people to enter and exit the shelter without getting wet or cold.
7. Incorporate Sign & Wayfinding Features
A sign that shows the name of the stop and its relative position to the surrounding areas is essential. This way, commuters will be able to notice the bus stop without having to memorize all the stops.
Bus stop signs should be easily visible, even in conditions where visibility is low. To achieve this, the sign should have a distinctive color or shape to make it stand out from the rest of the scenery. Using reflective material will make the sign visible in low light, rain, or any other harsh conditions.
Another important feature that every bus stop should have is a wayfinding component.
This includes an easy-to-follow, logical layout that shows how to get to the desired location. The first step should be showing the relative location of the bus stop to the surrounding places. The first place that commuters should look at is their starting point.
In the beginning, commuters should see where they are starting from. Their destination or their desired location should be shown as well. The distance between these two locations should be visible, along with the approximate time it will take to get there.
The path should be shown using a well-designed and legible map. This can be achieved by including landmarks, such as churches or other important structures, along the way.
The map should give a legible and clear description of where to go next, and it should also use landmarks that commuters will be able to recognize.
8. Incorporate Audio & Visual Features to Aid People with Vision Impairments
There are people with different types of disabilities. Some cannot see, while others cannot hear. In order to help these people travel around more easily, all bus stops should include audio and visual features that can alert them to their surroundings.
For example, there can be audio announcements explaining when the next bus arrives or how people should get on the bus safe and sound. Audio announcements should have the following characteristics:
There should be a clear sound that can be heard from all directions. That means there will be speakers on all sides or at least two in opposite directions to cover all areas around the stop.
There should be a tone that is easy to recognize, and friendly voices should be used.
There should be consistency with the announcements so that commuters will know what to expect.
A few examples of ideal audio features are:
A typical chime that sounds when it is time to board the bus. The sound should be long enough for sight-impaired people to know when they can get on the bus.
A system that announces where the bus is currently located and how far away it is. This should be updated regularly because buses can change their positions.
A few bell-like tones that sound in both an ascending and descending manner. The tone should be emitted when the bus approaches or leaves the stop. In this way, sight-impaired people will never have to worry about missing their transportation because they can be alerted when it is time to get off.
There should also be visual notifications to help people with hearing disabilities. There should be a sign that says when the next bus is coming and which route it will take.
This information can be shown through patterns of lights, such as a traffic light. A well-lit sign will allow people to see the messages in any condition, and it will also make sure that messages like these do not go unnoticed.
Here are a few strategies on how to provide visual notifications:
Use larger type prints with raised edges along with the entire sign so that it is legible even at night. These features will allow people to recognize the messages without having to get too close.
Use bright colors with high contrast for messages that must remain visible or that will be used most often. People should easily be able to read the signs, even when they are traveling at night or on cloudy days.
Use color coding on all signs to make it easier for people to recognize specific routes.
Provide raised lettering on the signs so that people without sight can read the messages while sitting in a wheelchair, or when they are standing.
Include symbols that have been identified to represent the route number and lettering that is large enough for people to recognize.
9. Offer Connection with Transit Systems
A good bus stop should be a gateway to the city's public transportation system. It should provide a way for commuters to easily connect with other forms of public transportation, such as subways, trains, streetcars, and other bus routes.
This can be done by providing a transfer hub at the bus stop, or by having a stop that is close to a major transit hub.
10. Sensible Advertising
Ads at the bus stops aren't bad by themselves. Since they can generate revenue for the transit agencies. Also, a lot of companies use bus stop ads to target commuters to increase brand awareness or to accomplish other business goals.
However, ads can be distracting or even disturbing for riders, especially if the content displayed is inappropriate.
Unfortunately, the most effective advertisements for businesses are those that are highly divisive among the general public. They will naturally want to hit the pain and pleasure buttons in order to get people talking about their product.
Although this may be profitable for the advertiser it may not be so for the general public. Therefore, transit agencies should be sensible when choosing the ads to be displayed at the bus stop.
They should also have a process in place for vetting ads before they are put up at the bus stop to make sure that they are appropriate and will not be distracting for riders.
All advertised ads ideally should be relevant to the riders and the community surrounding the bus stop.
Another important point to mention is the technology used to display advertisements. Although using technology at bus stops is generally beneficial, it should not distract both riders and drivers.
To do this, transit agencies shouldn't offer flashy or blinking that use animation or video to distract riders from the street. Instead, they should offer static ads that don't risk taking away the rider's and driver's attention.
11. Provide Proper Lighting Infrastructure
Many bus stops are located in dark, shady areas, and this can be a safety hazard for riders, pedestrians, and drivers. The level of lighting offered at the bus stop should be adequate enough to provide safety for all people being served by the stop.
Bus stops that are poorly lit may be a threat to safety because of limited visibility, making it harder for drivers to see the passengers, and riders to see their surroundings.
Therefore, it's a good idea to use lighting fixtures that can offer enough illumination to allow people to feel comfortable and safe. Bus stops should be well lit without being too bright.
It might even be helpful to use reflective materials at the bus stop to enhance the riders' visibility.
Here is what an ideal bus stop lighting system should include:
A light that is on the bus stop pole itself provides illumination for the immediate surroundings of the stop.
A light that is on top of or next to the bus shelter, to illuminate the inside of the shelter for greater visibility.
The optimum lighting would be a dual system that provides the rider with a light on their side of the shelter while also illuminating the street and trees next to the stop.
The utilized lighting system should have a backup system that will ensure operation in the event of a widespread power outage.
Solar panels and/or wind turbines provide some portion of the energy necessary for powering the lights. This is an important point because it helps reduce overall carbon emissions and allows for a self-sustaining system.
Bus stop pole lighting should be directed at the ground, to maximize the visibility of riders and drivers, while minimizing light pollution in surrounding neighborhoods.
Selected lighting fixtures should be vandalproof and/or tamperproof, to prevent tampering or vandalism.
Bus stop lighting must be properly maintained throughout the year to ensure that it is always functioning at its best. This will avoid any unnecessary inconvenience to riders.
12. Install Bike Racks
Creating bike lanes and encouraging bicycle use will be easier if there are secure bicycle parking areas near bus stops. It encourages riders to take the bus when they know they can secure their bike while traveling.
Therefore, bike racks encourage riders to use the bus stop in conjunction with their bike. By doing so, transit agencies encourage multi-modal commuting, which can lead to increased ridership, compliance with parking rules, more efficient use of land, and environmental sustainability.
13. Provide Heating and/or Cooling Infrastructure
Extreme weather will make uncomfortable conditions for waiting passengers. Especially in winter, a bus stop should have some form of heating infrastructure to keep people warm while they wait.
The heating infrastructure can be a combination of heated benches to fan heaters that are installed in the ground or under the bench.
In summer, riders might want some air conditioning. Air conditioners placed on bus stops will provide relief from the heat, making it more comfortable for riders.
In order to achieve the desired level of thermal comfort, it is important for the bus stop to be fully enclosed with a certain level of insulation. This will reduce heat loss and heat gain inside the bus stop offering more effective temperature control.
14. Display Public Art
Public art is an excellent way to draw attention to a new transit route or upcoming events in the community. It can be anything from paintings to animated displays.
An excellent bus stop will have something to look at besides advertisements. There are many creative ways for people to display art at the bus stop that are less expensive than one might think.
15. Reduce Noise Pollution
Noise pollution is a problem in many cities. Loud noises can be disruptive and cause stress. Bus stops are common targets of noise pollution because of their location.
There are many ways to reduce noise pollution at bus stops. One way is to install sound-absorbing materials, such as acoustic panels or plants. This will help to reduce the amount of noise that is emitted from the bus stop.
Sometimes the noise at bus stops can be seriously overwhelming, especially if it's located near train tracks. High levels of noise can prevent people from hearing the important announcements that are made at the bus stop.
Even if they do hear it, that noise might make them lose their train of thought, making it harder to understand what the message is. Installing acoustic fencing along the tracks can help reduce noise pollution at bus stops.
However, a good bus stop should also have some sort of soundproofing to reduce the amount of noise that riders have to deal with.
16. Install WiFi and Charging Stations
We live in a world that is extremely reliant on technology. It makes sense for transit systems to have free WiFi at bus stops. Also, by adding charging stations, riders can make sure their devices are always fully charged. This way they will stay connected while traveling.
These charging stations can also be used to power small electronic devices. For example, there are USB ports in many bus shelters where riders can charge their cell phones.
17. Build with Transit-Oriented Development in Mind
Building bus stops near transit-oriented development (TOD) can be a great way to improve the quality of public transportation. TOD includes high-density apartment buildings, condominiums, and office buildings that are located close to transit stations.
This benefits bus riders because people living and working in TODs typically rely on public transportation.
Bus stops can make or break a city's public transportation system, and if we know what to look for, we can make sure that our bus stops are up to par.
18. Protect from pollutants
Pollutants from cars and buses can cause health problems for people waiting at bus stops. These pollutants include carbon monoxide, nitrogen dioxide, and particulate matter.
Commuters are exposed to these pollutants when they wait at bus stops, and this can cause health problems such as asthma, respiratory problems, and heart disease.
An excellent bus stop should have some form of protection from these pollutants. Here are a few strategies bus stops can offer that will protect riders from pollutants:
Provide plants or trees to act as a filter
Provide free face masks to riders through vending machines
Install an air purification system that will filter out pollutants
19. Provide recycling bins
A lot of times people have to eat or drink while they wait for their bus. This can create a lot of waste, which is often just thrown away. A good bus stop will have some sort of recycling bins to reduce the amount of waste that is created.
Ideally, there should be dedicated recycling bins for:
Aluminum and steel cans, food wrappers and other plastic bags, paper products glass bottles, and jars. This helps to reduce the amount of waste that goes into landfills and reduces the negative environmental impacts of trash.
It is important to mention provided bins should be maintained and serviced regularly. Otherwise, they will become full quickly and not serve their intended purpose.
20. Manufactured from sustainable materials
We have already mentioned that bus stops should be made from durable materials. However, that is only one part of the equation. Just because a bus stop is made from durable materials does not mean it is sustainable.
The materials used to build the bus stop should also be sustainable and renewable. This is a great way to reduce overall emissions and environmental impacts.
A good bus stop should be manufactured from sustainable materials so that it can be reused or recycled when it's no longer in use. Some examples of sustainable materials include bamboo, cork, and recycled plastic.
Here are a few ideas on how can bus stops be made from sustainable materials:
Manufacture bus stop shelters from recycled plastic
Use cork or bamboo benches that can be recycled at the end of their life cycle
Use asbestos-free insulation to lower bus stops' energy consumption
Use lead-free paint to coat the bus stop
Don't use wood treated with chromated copper arsenate (CCA)
These are just a few ideas on how bus stops can be made from sustainable materials. There are many more examples of sustainable manufacturing processes that can be used to improve the overall environmental impact of the bus stop.
21. Install Wind turbines
Most people think wind turbines are industrial-scale machines that provide green energy for large cities.
However, this is not always the case. There are some models of wind turbines on a smaller scale that can provide green energy for public transportation.
Bus stops can use wind turbines to generate electricity, which can be used to power the bus stop itself.
There are already successful examples of small-scale wind turbines that can power bus stops most cities can learn from. Since it is typically a one-time investment with some maintenance required, it is a great way to reduce greenhouse gas emissions and improve sustainability.
22. Implement plant life into the design
Plants can help to improve the aesthetics of a bus stop while also serving a functional purpose. They help to reduce noise and air pollution, as well as act as a natural pollutant filter.
A good bus stop should offer some sort of plant life to riders as a form of protection. Here are some examples of how plants can help protect from noise and pollutants:
There are numerous ways to incorporate plant life into the design of a bus stop. One strategy is to use plants that act as windbreaks. In this type of strategy, plants are placed on either side of the bus stop. This helps to reduce wind gusts that riders may experience, as well as provide a natural sound barrier.
Another option is to install green roofs on bus stops, which help to provide insulation against the summer sun and winter cold. Green roofs can also be used to improve bus stops' thermal performance, which can be a great asset in hot or cold climates.
23. Incorporate music
Music can be a great way to help riders pass the time when they wait for their bus. It can create a positive waiting experience, which is another way to improve public transportation.
There are a few different ways to incorporate music into bus stops. One option is to have speakers that play music attached to the stop. Another is providing seat cushions that have speakers. This way riders can listen to the music of their choice while they wait for the bus.
It is important to mention that music should always be played at a reasonable level. Ideally, it should be introduced as some sort of background music(e.g., birds chirping, running water). It shouldn't be too loud but is still able to be heard.
We really don't want music introduced to bus stops to prevent riders from hearing the announcements at the bus stops.
24. Install Surveillance cameras
Using surveillance cameras in public spaces like bus stops is becoming more common. Although they are considered a privacy invasion by many, they are a necessary safety feature that can help reduce crime and violence around bus stops.
By having surveillance cameras, riders can feel more secure knowing that their surroundings are being monitored. Cameras ideally should be installed both inside and outside of the bus stop to increase coverage.
Another necessary feature that can increase the bus stop security is installing panic buttons. This way riders can alert the authorities if there is an emergency inside or around the bus stop.
However, it's important to mention that panic buttons shouldn't be installed that can be triggered by accident. Using the panic button unnecessarily should be considered a criminal offense.
25. Offer snacking and beverage vending machines for convenience
Some people have to snack at bus stops just because they don't have time for lunch. While others may have certain medical conditions that require them to eat at frequent intervals.
Whether it's an emergency or for convenience, people will eat at bus stops if they have the options to do so.
Providing a few vending options makes bus stops more convenient for riders. I suggest that only healthy snacks and beverages be made available. While junk food consumption is a big problem in our society, bus stops can be a great place to promote healthy snacking.
Also, offering snacks and beverages at bus stops can also be an additional source of income for transportation authorities.
However, it should be done in the least invasive way possible. Simple vending machines that allow riders to purchase what they want using cash or credit card will suffice.
26. Manage rainwater
The water around bus stops can be a big problem. Especially in places that receive a lot of rain. Unfortunately, most bus shelters were not designed to handle rainwater efficiently. They quickly begin to flood and impede the rider's experience.
The water around bus stops can flood the sidewalks and even cause a traffic hazard for those who walk by. Rainwater can also cause risks like slip and falls, especially if there is ice involved.
Also, water accumulating around bus stops is a great place for mosquitoes to breed. It's important to keep bus stop water free of standing water or it will cause public health problems.
Rainwater should never be allowed to pool around a stop and any water should be removed as fast as possible. The best way to manage rainwater is to put it in a drainage system that drains the water away from the stop and into a public drain or sewer.
Using permeable pavers is another strategy that can supplement a drainage system at a bus stop.
These pavers allow water to seep through them and into the ground. There is even permeable asphalt or concrete that can be used around bus stops to let stormwater drain through it.
27. Provide information monitors
There are so much information and news going around in this day and age that it's easy to lose track of what's going on. Providing information monitors around bus stops is a great way to keep people informed about important community matters.
Community or tourist information is a great topic to put on these screens. Information about events, promotions, service disruptions, lost items/found items, and other important information should be made available for commuters.
Information monitors can also be used to encourage people to take public transportation in the future. This way if they need to catch a bus or train, there is already information about how riding transit works at these types of stops.
28. Prohibit smoking around the stop
Smoking is a pretty common activity around bus stops. Whether people are smoking cigarettes or using vaporizers, these activities can ruin the transit experience for riders and cause major problems.
Smoking around the stop is not only hazardous and unsanitary but it's also prohibited by law in most modern cities. However, it is the type of law not enforced enough in most places.
Many people seem to think they can smoke at bus stops because it's common in public spaces. Bus stops are not public spaces. They are part of the transportation infrastructure and should be held to smoke-free rules just like any other smoke-free building or facility.
Riders need to know that smoking is prohibited at the bus stop and the law must be enforced in order for people to stop.
Conclusion
Bus stops are a functional part of the transportation system but they can also be a lot more. These small areas have so much potential to make a community better, safer, and healthier.
It might take a little bit of money and effort from the public transit authority to implement these improvements but it is well worth it in the long run. If every bus stop was implemented these features, it would make a big difference in the daily life of commuters and pedestrians.